SF Opinion
From ZineWiki
Jump to navigation
Jump to search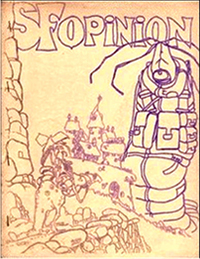 SF Opinion was a science fiction fanzine by Dean R. Koontz.
Seven issues were published in Lenoyne, Pennsylvania, U.S.A. Issue 7, the last issue, appeared in April 1969.
Contributors of cover and interior art work included Vaughn Bode and Dean Koontz, among others.
Contributors of columns included Dean Koontz and Gerda Koontz.
Contributors of comic strips included Vaughn Bode, who contributed "Junkwaffel" and "The Green Lizard".
Short stories by Dean Koontz that appeared in SF Opinion included the serialized story "Little Goody Two-Shoes", with chapter 1 appeared in issue 4 (1967), chapter 2 in issue 5 (1967), and chapter 3 in issue 7 (1969); "Glunk", based on Vaughn Bode's art work, which appeared in issue 7 (1969); and "Whoop, the Dead Gerkle", in issue 7 (1969).