Mae Strelkov
From ZineWiki
Jump to navigation
Jump to search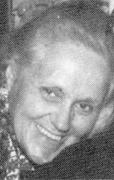 Mae Strelkov was a fanzine writer and fan artist.
Mae Strelkov was born in China where her English parents were located doing missionary work. She married Russian-born Vadim Streklov and they moved to South America, first to Chile and then to Buenos Aires, Argentina, at which time she began to write letters to science fiction and fantasy fanzines.
She was soon well-known as a writer of letters of comment, and she then began contributing art work and writing for many fanzines throughout the world. She also illustrated books, such as the Arthur Machen story, Spagyric Quest of Beroaldus Comopolita.
In the 1970s, she was the recipient of a special 'fan fund' to bring her to the U.S.A. for the 1974 Worldcon.
Later Mae devoted her time to creating hectograph paintings using hectograph dyes. Several of her unique paintings graced the covers of fanzines, such as E-Ditto.
She began writing her autobiography, of which seven books were completed. Only book three has been made available as an electronic text.
She died January 27, 2000.
Books
Zines
Contributions
External Links