Tamlacht
From ZineWiki
Jump to navigation
Jump to search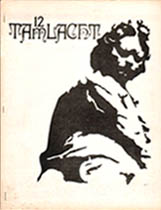 Tamlacht was a small press publication devoted to H. P. Lovecraft, science fantasy, and occult matters by Victor Boruta and A.A. Attanasio.
Tamlacht was published in Linden, New Jersey, U.S.A., in the 1970s. The first 15 issues were published by Boruta and Attanasio, after which it was published by Boruta alone. "Tamlacht" is a Gaelic word that usually indicated a religious burial ground, often pagan in origin. Tamlacht included editorials, articles, essays, reviews, fiction, and art work.
Contributors of articles, essays, and reviews included Alfred A. Attanasio, reviewing Alastair Crowley's Magic in Theory and Practice, and an essay by A.A. Attanasio on "The Relationship Between Coleridge's 'The Rime of the Ancient Mariner' and the Tarot'; Robert Bloch offers "Notes on an Entity"; Roger Bryant, writing on the chronology of the "Necronomicon"; and Joe Punilia.
Contributions of fiction included "Beowulf and the Supernatural", "Upon the Edge of Winter", "Fungi", and "Slipstream" by A.A. Atanasio. "Fungi" is considered to be part of the Cthulhu Mythos, according to Edward P. Berglund.
Contributors of cover art work included Kenn Barr, Michael Gilbert, Beth Lefkowitz, Patrick Owens, Patricia Quiqley, and Mae Strelkov.
Illustrations and photography were by Ronald Attanasio.
Tamlacht has been said to be connected to the now defunct New England Institute of Metaphysical Studies.
External Links