Hyperopia
From ZineWiki
Jump to navigation
Jump to search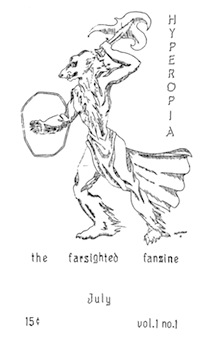 Hyperopia was a science fiction fanzine by Robert J. Fritz.
Calling itself "the farsighted fanzine", Hyperopia was the official organ of the Buffalo Fantasy League. The first issue was published in Buffalo, New York, U.S.A. in July, 1952.
Contributors of artwork included Lee Hoffman (Quandry, The Chattahoochee, Okefenokee, & Ogeechee Occasional Gazette), and Charles Momberger (Ghuvna).
Contributors of writing included W. Paul Ganley (Fan-Fare), Lee Hoffman, Betty Howard, Ken Krueger (Abortions, Space Trails), Allan Leverentz (Grotesque), Battell Loomis, Frank J. Richards, and Marilyn R. Venable.
John Ledyard, in the December 1952 issue of Peon, writes about Hyperopia; "A monstrous thing, ~11x14, with 38 pages, in this first issue. A nice list of authors, including A. Leverentz, Ken Krueger, Lee Hoffman, Battel Loomis, and W. Paul Ganley. There are, aside from a story, eleven illustrations by Lee Hoffman, including front and back covers... I particularly enjoyed Ganley's Indian Lake con-report and the stories by Betty Howard and Marilyn R. Venable. Looks like a real comer."
External Links