Renaissance
From ZineWiki
Jump to navigation
Jump to search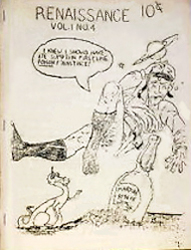 Renaissance is a science fiction fanzine by Joseph Semenovich.
Published in the early 1950s in Long Island City, New York, U.S.A., at least 4 issues of this title were released, with issue 4 appearing in 1952. It was mimeographed, and 24 pages. With issue 4, it was combined with Warron Freiberg's fanzine SF Cometeer.
As reported by Mike Deckinger, in his article "The Club House" for el Vol. 6 No. 2, Rog Phillips, in his December 1952 column "The Club House" for Amazing Stories Magazine, writes, "I'd like to ask a favor of you." Rog addressed his readers. "These two boys are trying hard to put out a good fanzine. They're eager to do the work. Somehow they haven't clicked yet. They need subscribers and they need more contributors. They're getting discouraged. Send them a dime and when you get their zine send them a letter after you've read it. That's very little and it will go far to make them happy." - He's talking about Renaissance from Joseph Semenovich and Warren Freiberg."
Contributors of articles included Richard Billings, W. Paul Ganley (Fan-Fare), Lee Hoffman (Quandry, The Chattahoochee, Okefenokee, & Ogeechee Occasional Gazette, Science Fiction Five Yearly ), Max Keasler, Stanley S. Martin, and Robert Silverman (Spaceship), among others.
Contributors of columns included Francis Bordna, Warron Freiberg, and Joseph Semenovich. among others.
Contributors of fiction included Steven R. Paul, Larry Saunders, and George T. Wetzel, among others.
Contributors of art work included Richard Bergernon, Rich "Alex" Kirs, and George T. Wetzel, among others.
Renaissance is included in the collection of Houghton Library, Harvard College Library, at Harvard University in Cambridge, Massachusetts, U.S.A.
Joseph Semenovich has previously published at least one issue of Cosmic in 1951. Later on, he was a regular contributor of poetry to small press publications such as Freezer Burn Magazine and Phantasm, and released the books As many times as the Frankenstein monster; Mythologies, Vulgarities and Other Realities: Poems; Prothalamion and Other Poems; and The Peter Poems and Other Disgraces.
External Links