Phantasm
From ZineWiki
Jump to navigation
Jump to search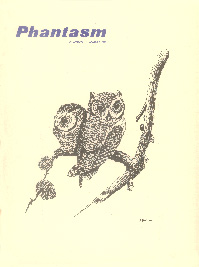 Phantasm was an independent literary journal edited by Larry S. Jackson and published by Heidelberg Graphics.
Phantasm ran from 1976 till 1980, and featured original poetry, fiction, artwork, articles, photos, commentary reviews and interviews. The Features Editor was Mona Ceniceros for issues 5 to 8. The Poetry Editor was Kevin Campbell for issues 9 to 17, and then Phillip Hemenway stepped in from 17 till issue 27, the last issue.
Contributing poets included James Baldwin, Barbara Langham Beyer, Kevin Campbell, Paul H. Cook, Wesli Court, Gary Finke, Helen Heick, Marice Kenny, Lyn Lifshin, Paul JJ Payack, Thomas D. Peacock, Bern Porter, Elizabeth Rever, Wendy Rose, Joseph Semenovich (Renaissance), and Alizon Zier, among others.
Fiction was contributed by Laurie Ceniceros, Richard Grayson, Antoni Gronowicz, Gerald Haslam, Leslie Woolf Hedley, Jamake Highwater, Maurice Kenny, David Mitchell, Bart Schneider, Aida Shuey, and Irene Tractenberg, among others.
Contributing artists included Carole Bourdo, Michelle Coder, Brian Conery, Bill Donohue, George Cochran, J. Thaddeus East, Marion Epting, Tim Girvin, Jerril Dean Green-Kopp, Chaim Gross, Mike Halldorson, David Harrer, Helen Heick, Sherri Henri, Joel Hensler, Steve Hubbard, Karen Jackson, Adrian Jenkins, Debby Sue Jones, Steve Ladd, Mendy Leighty, Gary Miller, David Mosely, Waif Mullins, Morgan Mussell, Wendy Nuding, Nelson E. Oestreich, Bern Porter, Pat Rothe, David Sherrod, Tasia Smith, Stan Sours, Michael Valadez, Wendy Victor, and Tom Witt.
Articles were by Doris Fleischman Bernays, Charlotte Beyers, Tim Burris, Kevin Campbell, Mona Ceniceros, Tom D'Agostino, Tim Girvin, Larry Jackson, Tim Jacobs, Margaret Leong, John Oliver Simon, and Dr. Charles B. Taylor, among others.
External Links