Gardyloo
From ZineWiki
Jump to navigation
Jump to search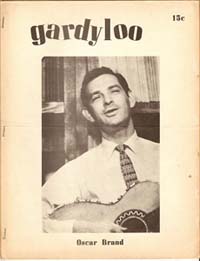 Gardyloo was a folk music fanzine created by Lee Hoffman in the 1950s in New York City, NY, U.S.A.
Lee created Gardyloo after her previous fanzine, Caravan, became so successful that she found it difficult dealing with advertisers. It was a mimeographed fanzine that ran for six issues. By issue 5, published in 1959, it consisted of 26 pages and was duplicated on various colours of paper. it was subtitled, "The Magazine of War to the Death, With a Cast of Thousands". Lee stopped publishing Gardyloo in 1960.
Contributors included Dave Beadle, Roy Berkely, Oscar Brand, John Cohen, Dick Greenhaus, Woody Guthrie, Lori Holland, Alex Kochanoff, Mark Morris, Paul Prestopino, Aaron Rennert, Dave Van Ronk (The Bosses' Songbook), Mike Seeger, Don Shapiro, Winnie Winston, and Izzy Young. The zine frequently covered the exploits of the group the New Lost City Ramblers.
Gardyloo was sold at Izzy Young's Folklore Center in Greenwich Village, NYC.
Gardyloo was one of a handful of fanzines devoted to folk music that were published in the 1950s and 1960s, along with Canada's Hoot, Sing and String, and Singalong!; the U.S.A.'s The Broadside of Boston, Caravan, The Little Sandy Review, The Songmakers Almanac, and Tune Up; in the UK, Noise Level by John Brunner, Rambler by Michael Moorcock; Folk Scene arrived in the 1960s, and Folks in the 1970s.
External Links