The Broadside of Boston
From ZineWiki
Jump to navigation
Jump to search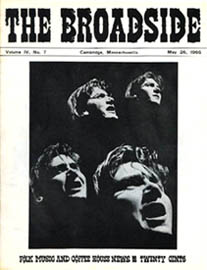 The Broadside of Boston was a fanzine devoted to folk music.
Founded in 1962 by David Wilson, The Broadside of Boston was published in Cambridge, Massachusetts, U.S.A. Broadside, as it was commonly known, was an 11" X 8.5" sized publication. The first issue appeared March 9, 1962, and was a hectographed fanzine. It began with around 10 pages in 1962, and increased to 20 pages by 1965.
By the end of 1962 it had acquired the subtitle, "Boston's Folk Music and Coffee House News".In 1963, it was edited by Lynn Musgrave. By 1965, the editor was again Dave Wilson. The last issue, Vol. 6, No. 23, appeared in October 1967, at which point it merged with an underground newspaper.
Broadside featured artists such as Eric Anderson, Joan Baez, Margaret Barry, Maybelle Carter, The Chambers Brothers, The Charles River Valley Boys, The Clancy Brothers, Judy Collins, Barbara Dane, Bonnie Dobson, Bob Dylan, Ramblin' Jack Elliot, Mimi Farina, Geula Gill, Michael Gorman, The Grandison Singers, Woody Guthrie, The Holy Modal Rounders, John Hammond, Jr., Sam "Lightnin' " Hopkins, Mississippi John Hurt, Ian and Sylvia, Grandpa Jones (louis Marshall Jones), Jim Kweskin, Mel Lyman, Joni Mitchell, Phil Ochs, Odetta, Tom Paxton, Jean Redpath, Fritz Richmond, Pete Seeger,Mark Spoelstra, Buffy Sainte-Marie, Dave Van Ronk, Jackie Washington,Hedy West, and Marion Williams, all featured on covers of various issues. Articles included "Brandeis Folk Festival", "Folk Music Plays Huge Part in the 1963 Boston Arts Festival", "First Asheville American Folk festival Being Held", "Jackie Washington Records Third Album" and a feature on Peter Walker's Folklore Center at Harvard Square.. Also included were club news and performance dates, announcements of festivals, such as the Newport Folk Festival. The cover of Vol. II, No. 8 featured photos from six coffee houses in Cambridge and Boston: Cafe Yana, Club 47, Club Jolly Beaver, The Loft, The Orleans, and Turk's Head.
Also included were words and music to songs by Mark Spoelstra, Boot of Blue by Eric Anderson, Ramblin Boy by Tom Paston, Holy Modal Blither by Peter Stampfel, and Ramblin' Round by Dave Wilson.
Contributors included Ralph Earle, Ed Freeman, Bob Jones, Robert J. Lurtsema, Dave Mason (Coup), Cori Randle, and Phil Spiro.
Art work was contributed by Omar.
Photographs were by Rick Sullo.
Letters came from Mel Lyman, and Mark Spoelstra, among others.
The Broadside of Boston was one of a handful of fanzines devoted to folk music that were published in the 1950s and 1960s, along with Canada's Hoot, Sing and String, and Singalong!; the U.S.A.'s Caravan, Gardyloo, The Little Sandy Review, The Songmakers Almanac, and Tune Up; and Folk Scene in the UK.