The Little Sandy Review
From ZineWiki
Jump to navigation
Jump to search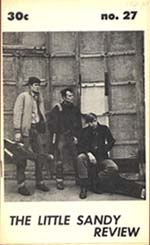 The Little Sandy Review was a fanzine devoted to folk music published by Paul Nelson (1936-2006) and Jon Pankake.
The Little Sandy Review was launched in 1959 as a pamphlet-sized, mimeographed publication, published in Minneapolis, Minnesota. Nelson and Pankake were later joined by Barry Hansen, who was the Los Angeles editor. Thirty issues were released until the fanzine ceased publication in 1965. It was one of a handful of fanzines devoted to folk music that were published in the 1950s and 1960s; in the U.S.A., Lee Hoffman published the first folk fanzines Caravan, and then Gardyloo; others followed such as The Broadside of Boston, and The Songmakers Almanac. In Ontario, Canada, Hoot and Sing and String, and British Columbia, Canada, Singalong! appeared; in the UK, John Brunner published Noise Level and Michael Moorcock released Rambler; later in the UK other folk music zines, such as Folk Scene in the 1960s, and Folks, in the 1970s and 1980s would continue to be published.
The editors introduced their fanzine by saying: "Our creed is a very simple one. We are two people who love folk music very much and want to do all we can to help the good in it grow and the bad it in perish. After reading this issue, it should be very apparent to anyone who we think is good and who we think is bad and why" (Little Sandy Review, Issue One, 1959).
Contributions included writing by John Cohen, David Evans, Tony Glover, and Alan Wilson, and photographs by Marina Bokelman, David Evans, and David Gahr.
The fanzine was devoted to folk music legends such as The Clancy Brothers, Woody Guthrie, Leadbelly, duet Ewan McColl and Peggy Seeger, Malvina Reynolds, Almeda Riddle, Pete Seeger, and Robert Pete Williams; the Harry Smith issued collection "Anthology of American Folk Music"; and newcomers such as Bob Dylan and the trio Koerner, Ray and Glover, and The New Lost City Ramblers. It was known for its disdain for commercial music and interest in traditional folk genres and performers.
It has been written of The Little Sandy Review that it "...first has to invent, essentially from scratch, the foundations of modern rock journalism." (David Lightbourne in The New Vulgate #4 July 29, 2009). John Pankake would state in 1991 that such writing was possible because The Little Sandy Review was part of "a subjournalistic tradition (known as the) fanzine."
In 1998, John Pankake won a Grammy Award for his essay in the liner notes for the reissue of Harry Smith's "Anthology of Anerican Folk Music". Paul Nelson went on to write for most of the well-known rock magazines of the 1960s.
External Links