The Golden Atom
From ZineWiki
Jump to navigation
Jump to search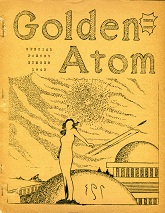 Golden Atom was a science fiction fanzine edited by Larry Farsace ( Born Litterio B. Farsaci in 1921, died 2013) and published by Kodiak City Publications in Rochester, NY, U.S.A.
Named for Ray Cummings' series that began with The Girl in the Golden Atom, the first issue appeared on October 20, 1939. The first ten issues, published from 1939 till 1943, were in letter-sized mimeographed format; two special issues, appearing in 1955 and 1959, were letterpress format.
Science Fiction writer and contributor Sam Moskowitz, editor of Helios, Different, and New Fandom, regards Golden Atom as "arguably the most valuable repository of new research and reference on SF" during the time it was initially published.
Farsace published a six-part series on the fiction of Ray Cummings titled "Golden Atom Tales" and Fred W. Fischer wrote the column "From The Observation Deck" on stories appearing in the older pulp magazines, for which Farsaci compiled bibliographies. Also included was a reprint of Donald Wollheim's Curious Stories, a fan magazine that had previously been published in an edition of only 4 copies.
Contributors of prose included Forrest J Ackerman (Voice of the Imagi-Nation, Novacious), John W. Campbell, Benjamin De Casseres, Louis Russell Chauvenet, Farsaci, Fred W. Fischer (The Southern Star), Walter Fleming, Nils Helmer Frome (Supramundane Stories), Joseph Gilbert (The Southern Star), Edmond Hamilton, Henry Hasse, Erle M. Korshak, Francis J. Litz, P. Schuyler Miller, Sam Moskowitz, Dale Tarr, Fred A. Senour, Ray J. Sienkiewicz, Bob Tucker (Le Zombie), Harry Warner, Jr. (Horizons, Spaceways), and others.
Poetry was published by Stanton A. Coblentz (Wings), Elizabeth Starr Cummings (Ray Cummings' daughter), Farsaci, Virgil Finlay, Nora May French, Amanda Benjamin Hall, Jean Howard, Frank Belknap Long, H. P. Lovecraft, Kenneth Macley, David Paul, Stella River, Clark Ashton Smith, George Sterling, Chad Walsh, Donald Wandrei, Harry Warner Jr., Stanley G. Weinbaum, and Rosco E. Wright (Beyond, Eusifanso, Viewpoints).
Letters came from Forrest J Ackerman, Jim Avery, John V. Baltadonis (Fantasy Fiction Pictorial, Fantasy Fiction Telegram), Robert H. Barlow (Leaves), Phil Bronson (The Fantasite), John W. Campbell, Ray Cummings, J.J. Fortier (Starlight), Paul Freehafer (Polaris), Nils Helmer Frome, Joseph Gilbert (The Southern Star), Mary Gnaedinger (editor of Famous Fantastic Mysteries), Edmond Hamilton, Harold Hersey (editor of Thrill Book), Charles D. Hornig (The Fantasy Fan), H.C. Koenig (The Reader and Collector), Erle Korshak, Gertrude Kuslan (The Nucleus), H.P. Lovecraft (published posthumously), Robert W. Lowndes, Robert A. Madle (Fantascience Digest), Marvis Manning (Pluto), Sam Moskowitz, Mark Reinsberg (Ad Astra), Milton A. Rothman, A. Langley Searles (Fantasy Commentator), Ray J. Sienkiewicz, Clark Ashton Smith, Jack F. Speer (The National Fantasy Fan), R.D. Swisher, Willy Sykora, Harry Warner Jr., John Wasso Jr., Olon F. Wiggins (The Science Fiction Fan), Donald A. Wollheim (The Phantagraph), and others.
Cover art was contributed by Farsaci, Jean Finlay, Virgil Finlay, Charles Hickox, and Rosco E. Wright.
Some issues of The Golden Atom, such as issues 7 and 8, were split fanzines with the Francis J. Litz publications Voice of 8 Worlds, and Outre.
Farsace erroneously attributed two letters written by Argosy reader Augustus T. Swift to H.P. Lovecraft, when Farsace reprinted them from the Argosy in an issue of Golden Atom along with a genuine letter by Lovecraft. This error led to the perpetuation to the present day of the spurious notion amongst critics and publishers that Lovecraft had praised the work of fantasy writer Francis Stevens.
In the 1940s, Larry Farsace also published the fanzine Stars.
External Links
For more detail on Farsace/Lovecraft/Stevens story, see [1].