Viewpoints
From ZineWiki
Jump to navigation
Jump to search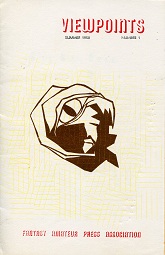 Viewpoints was a science fiction fanzine by Rosco E. Wright and Norman E. Hartman.
Viewpoints was first published in Eugene, Oregon, U.S.A. in Summer 1952 as the successor to Eusifanso. It was followed by No. 2, Autumn 1952, No. 3, Winter 1952, and No. 4, Spring 1953 (combined with Concept, a magazine that was never published but only dreamed of.) The booklets are 8.5 x 5.5 inches. Vols 1-2 run 14 pages. Vol 3 is 22 pages. Vol 4 is 15 pages. All are letterpress printed with nice typography and layout. Vol 4 is on better quality paper, with heavier cover stock and a number of original illustrations including lino cuts by Rosco Wright, plus artwork by Henry Lewis. Numbers 1-3 were limited to 100 copies. No. 4 was printed in an edition of 250 copies. The cover announced it as a Fantasy Amateur Press Association publication.
The purpose of Viewpoints was given in an editorial indicating that it was published, "mainly to utilize left-overs from Eusifanso, publish Eugene Science Fantasy Artisans Society club minutes, and circulate topical news items which should not have to wait for the publication of the larger magazine.'
Eusifanso was an abbreviation for Eugene Science Fantasy Artisans Society, from Eugene, Oregon, U.S.A. and Eusifanso had been the official organ of the club from the late 1940s till 1952, up until Viewpoints began.
Rosco Wright, along with D.R. Fraser, Alice Rutherford and Clarence Rutherford, and Ed Zimmerman had been the editors of Eusifanso. Rosco Wright had also previously published the fanzine Beyond from 1943 till 1946.
Norman E. Hartman later published his short science fiction stories in Galaxy and Microcosmic Tales, among other publications, and wrote columns for Science Fiction Review, Heliocentric Net, Midnight Zoo, and Space and Time.