Eusifanso
From ZineWiki
Jump to navigation
Jump to search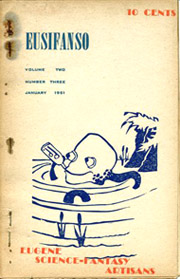 Eusifanso was a science fiction fanzine published by Little Press.
Eusifanso was an abbreviation for Eugene Science Fantasy Artisans Society, from Eugene, Oregon, U.S.A., and this was its official organ. Eleven issues of this fanzine were released in the late 1940s and early 1950s, the last issue appearing February 1952 with Volume 2 No. 5, with a changing roster of editors.
Volume 1, No. 6 (#6, June 1950) was edited by D.R. Fraser. Vol.2, No.1 (#7, July 1950), was edited by Rosco E. Wright, Alice Rutherford and Clarence Rutherford. Vol.2, No.2 (#8, July 1950) edited by D.R. Fraser, and Vol. 2, Nos. 3 (#9, January 1951) and 4 (#10, July 1951) by Rosco Wright and Vol.2, No. 5 (#11, February 1952) by Rosco Wright and Ed Zimmerman.
Contributors included Howard Bergerson, Lemuel Craig, William Granger, Norman Hartman, Lee King, and Rick Sneary (The Outlander, Moonshine, Shangri L'Affaires).
Slant, in their "Due Credit" section, acknowledges their work- "TO D. R. FRASER for making such a beautiful job of EUSIFANSO".
Eusifanso was succeeded by Viewpoints, by Rosco Wright and Norman Hartman, the stated goal being to publish ESFS club minutes and utilize leftovers from Eusifanso.
Rosco Wright had previously published the fanzine Beyond from 1943 till 1946.