The Science Fiction Fan (U.S.A.)
From ZineWiki
Jump to navigation
Jump to search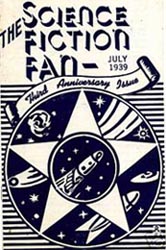 The Science Fiction Fan was a fanzine published by Olon F. Wiggins.
The first issue was released in July 1936. More than 55 issues of this title were published in Denver, Colorado, U.S.A., before the last issue, #55, appeared in February 1941. The Associate Editor was P.J. Searles. Contributing Editors were Hayward S. Kirby and Donald Wollheim.
Contributors included Forrest J Ackerman (Imagination!), Ray Bradbury (Futuria Fantasia), Ted Carnell (Novae Terrae), Willis Conover (Science-Fantasy Correspondent), Myrtle Douglas (Morojo) (Voice of the Imagi-Nation), Meryn Evans, Ralph Milne Farley, John Russell Fearn, Nils Helmer Frome (Supramundane Stories), Jack Gillespie, Harold Hersey, Cyril Kornbluth, R.A. Leadabrand, Robert A.W. Lowndes, Robert Madle (Fantascience Digest), Sam Moskowirz (Helios), Lawrence Paschall, Frederik Pohl ( The International Observer, Arcturus), Jack Speer, Bob Tucker (Le Zombie), Harry Warner, Jr. (Spaceways), Donald Wollheim (The Phantagraph), and C.S. Youd (The Fantast).
Art Editor was James M. Rogers, and illustrations came from Morris Scott Dollens (Science-Fiction Collector).
Included was an article on Stanton Coblentz (Wings), an interview with Jack Williamson, and the article "The Last of Lovecraft" by John B. Michel (Terrible Tales of Tittering Terror, The International Observer).
Olon F. Wiggins also published Galaxy.
External Links