Galaxy (U.S.A.)
From ZineWiki
Jump to navigation
Jump to search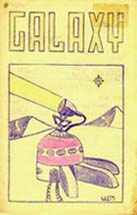 Galaxy was a science fiction fanzine by Olon F. Wiggins.
Galaxy was published in Denver, Colorado, U.S.A. in the years from 1938 till 1943. Volume 2, #1, or No. 7, was released in May 1939, and was free to members of the Fantasy Amateur Press Association.
Contributors included R. E. Porter and John B. Michel (The International Observer, Terrible Tales of Tittering Terror), writing on the film Lost Horizon. The cover was by Walter E. Marconette (Scienti-Snaps).
Olon Wiggins also published The Science Fiction Fan.