Science-Fiction Collector
From ZineWiki
Jump to navigation
Jump to search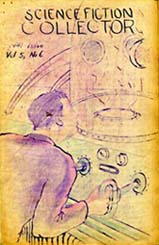 Science-Fiction Collector was a science fiction fanzine by Morris Scott Dollens and John V. Baltadonis.
Science-Fiction Collector was first published May 1936 by a 16-year-old Morris Scott Dollins of North St. Paul, Minnesota, U.S.A., who published 14 issues before handing over editorship to John V. Baltadonis of Philadelphia, Pennsylvania, U.S.A. He kept publishing this title till 1941, with 17 more issues released. Under his editorship, it was a Comet Publication.
Morris Scott Dollens was one of the first editors to introduce the varied-coloured hektographed fanzine, which Baltadonis would perfect. According to SF historian Sam Moskowitz, "Science-Fiction Collector became the leading representative fan journal".
Contributors included Forrest J Ackerman (Voice of the Imagi-Nation, Novacious), Myrtle Douglas (Morojo) (Voice of the Imagi-Nation, Novacious), Jack Erman, Larry Farsaci (The Golden Atom, Stars), Nils Helmer Frome (Supramundane Stories), Joe Gilbert, Dale Hart (later editor of Ichor), Robert W. Lowndes, Robert Madle (Fantascience Digest), Walter Marconette (Scienti-Snaps), Jack Chapman Miske (Chaos, Bizarre), Sam Moskowitz (Helios, Different, New Fandom), Mark Reinsberg (Ad Astra), Milton A. Rothman (Fantasy Fiction Telegram), Oliver E. Saari, Jack Speer, Oswald Train, (Fantasy Fiction Telegram), Donald Wollheim (The Phantagraph), and T. Bruce Yerke (The Damn Thing).
Artwork was by John V. Baltadonis, Morris Scott Dollens, and Charles Stiles.
John V. Baltadonis had previously published Fantasy Fiction Telegram with Robert Madle, Milton Rothman and Oswald Train, Imaginative Fiction with Robert Madle, Jack Agnew and Harvey Greenblat, and Fantasy Fiction Pictorial with William H. Miller, Jr.
External Links