Chunga
From ZineWiki
Jump to navigation
Jump to search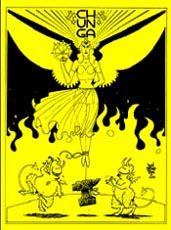 Chunga is a science fiction fanzine edited by Andy Hooper, Randy Byers and Carl Juarez.
The first issue appeared in 2002. Chunga has won the FAAn Award for Best Fanzine three times; in 2003, 2005, and 2006.
Contributors of artwork included Edd Cartier, Kurt Erichsen, Ken Fletcher (Rune), MB Fletcher, Brad Foster, Sharee Carton, Alexis Gilliland, Jeanne Gomoll (Janus, Six Shooter), Ian Gunn, Don Helley, Bill Kunkel (Rats!, Four Star Extra), Sue Mason, Ulrika O'Brien, Bill Rotsler, Marc Schirmeister, Stu Shiffman, Craig Smith, Dan Steffan (BLAT!), D. West.
Photos were contributed by Randy Byers, David Cake, Carl Juarez and Luke McGuff.
Contributors of writing include James Bacon (Journey Planet), Tom Becker, Gregory Benford (Void), Richard Brandt, Claire Brialey (Banana Wings), Sharee Carton, Graham Charnock (Wrinkled Shrew), Rich Coad, Lilian Edwards (Gloss, Floss!, This Never Happens), Chris Garcia (The Drink Tank), John Hertz (Vanamonde), Dave Hicks, Lucy Huntzinger (Rude Bitch), Christina Lake (Head, This Never Happens), Dave Langford (Ansible), Max, Luke McGuff, Joseph Nicholas (Vector), Hal O'Brien, Ulrika O'Brien, Lesley Reece, Stu Shiffman, and Art Widner (Spacewarp).
Letters came from Ron Bennett (Ploy, Skyrack), William Breiding (Star Fire), Alexis Gilliland, Mike Glicksohn (Energumen, Xenium), Rob Holdstock (Macrocosm), Mike Meara, Lloyd Penney (Torus), John Purcell (Askance), Dale Speirs (Opuntia), Shelby Vick (Confusion), and Frank Wu.
Chunga is available as a PDF on eFanzines.com
In the 1980s, Andy Hopper had co-edited issue 11 of Science Fiction Five Yearly, with Geri Sullivan and Jeff Schalles. He also edited the fan anthology Fanthology '89. In the 1990s, he and Carl Juarez and Carl Juarez co-edited the newszine Apparatchik with Victor Gonzalez, winning the FAAn Award for Best Fanzine for the years 1995 and 1996.
Randy Byers was also one of the Associate Editors of Science Fiction Five Yearly.