Macrocosm
From ZineWiki
Jump to navigation
Jump to search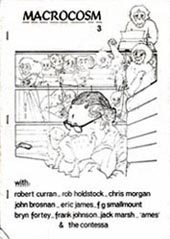 Macrocosm was a literary and fantasy small press publication by Robert Holdstock (1948-2009).
Macrocosm was first published in December 1971 in London, England. Three issues were released, the last in July 1972. Each issue was around 48 pages.
Contributors of writing included John Brosnan, Robert Curran, Bryn Fortey, Jack Marsh, Chris Morgan (Brum Group News), F.G. Smallmount, and editor Rob Holdstock.
Contributors of poetry included Lisa Conesa (Zimri, Iseult), Robert Holdstock, Eric James, and Franklyn G. Johnson,
Art work was contributed by Lisa Conesa, Eric James, Terry Jeeves (The Damned Patrol, ERG), Alastair Noyle, James Pagitt, Dave Rowe, and Andrew Stephenson, with a cover for Issue 3 by Dave Rowe.
Also included was an interview with artist Andrew Stephenson in Issue 3.
Robert Holdstock was the author of over 30 books, including the World Fantasy Award winning Mythago Wood, and the Merlin Codex series of books.