Wrinkled Shrew
From ZineWiki
Jump to navigation
Jump to search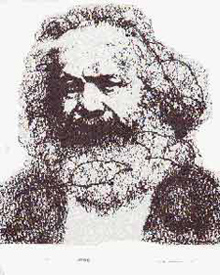 Wrinkled Shrew was a science fiction fanzine by Pat Charnock.
Poblished in London, England, the first issue of Wrinkled Shrew appeared in July 1974. It featured writing by Pat Charnock and Graham Charnock, Graham Hall, Dick Howett, Charles Platt (Beyond), and Chris Priest. Some subsequent issues were edited by both Pat and Graham Charnock.
The first issue appeared in July 1974.
Contributors to issue 2, from November 1974, and issue 3, from March 1975, included Malcolm Edwards, Dave Garnett, Graham Hall, Cas Skelton (Small Friendly Dog), and Graham Charnock writing about his experiences recording an album with Michael Moorcock (A Fanzine Called Eustace, Typo).
Of the cover of issue 4, August 1975, Peter Roberts in Checkpoint #72, from August 1976, writes, "The cover of the fourth issue is a good place to start; it's a portrait of Karl Marx with rodents in his beard and the reader is invited to spot the shrews therein (taking care to avoid the false voles). Knockout. Covers that bemuse people are rare and good things." Issue 4 carried articles by Dick Howett, Roy Kettle, and "Coventry '75: The Great Seacon Freakout", a convention report from Peter Nicholls, voted 'Best Article' in the Checkpoint Poll for 1975-76.
In the fifth issue, from February 1976, Dick Howett does an illustrated column and Roy Kettle continues his memoirs.
The 6th issue, released August 1976, contains cartoons and a column by Dick Howett, and contributions by Roy Kettle, Joseph Nicholas (Vector), and Chris Priest.
Issue 7, from March 1977, featured contributions from Robert Holdstock (Macrocosm), Tom Perry (Quark), Greg Pickersgill (Stop Breaking Down), Charles Platt, Andrew Stephenson and a fanzine review column by D West that won another 'Best Article' award for Wrinkled Shrew in the Checkpoint Poll for 1977, as well as winning in the 'Best Single Issue' category.
Issue 8, from April 1978, won the award for Best Fanzine Cover in the Checkpoint Poll of 1978-1979, with cover art work by Pauline Jones, and limerick by Graham Charnock.
8 issues were published, the last in April 1979.
Wrinkled Shrew was voted Best Fanzine in the Checkpoint Reader's Poll for 1976/77.
Wrinkled Shrew was considered to be a part of the group of fans and fanzines known as 'RatFandom'.
In the 2000s, Pat Charnock returned to self publishing with her fanzine Raucous Caucus.
External Links