Stop Breaking Down
From ZineWiki
Jump to navigation
Jump to search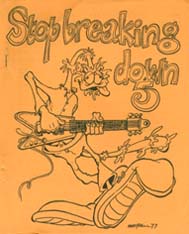 Stop Breaking Down was a science fiction fanzine by Greg Pickersgill.
Stop Breaking Down was first released in 1976. Seven issues were published till it ended its run in August 1981. It included articles and essays, fannish concerns, regular columns, fanzine reviews by Pickersgill and a lettercolumn.
Contributions of cover art work came from Harry Bell (Grimwab) (#3, #5, #7), Graham Charnock (#1), Rob Hansen (Epsilon, later Pulp and Chuch) (#6), John Ingham (#4), and the editor (#2).
Contributions of writing were by Chris Atkinson, Eric Bentciffe, Graham Charnock, Pat Charnock (Wrinkled Shrew), Malcolm Edwards (Vector), Bryn Fortey, Rob Hansen, Rob Holdstock (Macrocosm), Linda Krawecke (Tiger Tea), Peter Roberts (Checkpoint), and D. West.
Simone Walsh, who was simultaneously publishing Seamonsters, produced a regular column for each issue.
The last issue included the article "Why I did not win TAFF", a critique of the annual award, by Pickersgill.
A couple of different fanzines have appeared referencing Stop Breaking Down, including Start Breaking Up by Chris Atkinson and Linda Krawecke, which included articles written for the original run of the zine but not published by the time it folded; and Stop Puking Up which anonymously appeared at SILICON in 1976.
Greg Pickersgill would go on to do Rastus Johnson's Cakewalk in the 1990's.