Epsilon
From ZineWiki
Jump to navigation
Jump to search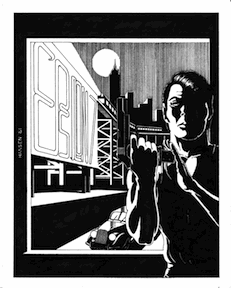 Epsilon was a science fiction fanzine by Rob Hansen.
Published in London, UK, from September 1976 till August 1985, it ran for eighteen issues. Epsilon won the Nova Award for Best Fanzine in 1982, and Hansen won the Nova Award for Best Fan Artist the same year.
Hansen collaborated with Harry Bell (Grimwab), and Dan Steffan (Boonfark) on the cover art work for several issues.
Contributors of writing included Leroy Kettle, among others.
Included in issue #17 from 1984 was a reprint of Peter Roberts' (Checkpoint) 1977 TAFF report, "SunCon and the Sea Off Miami".
Greg Pickersgill writes of Epsilon, "An excellent fannish fanzine—Hansen was witty, funny, and wise. He had a particular ability to knit together various strands of argument and comment on the issues that affected British fandom of the day and come out with intelligent summaries and sometimes definitive conclusions. His covers were also often quite brilliant. A set of Epsilon is a wonderful thing."
Rob Hansen was also co-editor, with Vince Clarke, Avedon Carol, John Harvey and Pam Wells, of Pulp from 1986 to 1991. As well, he co-edited Chuch with Avedon Carol in 1986, and also edited the 1987 SF anthology Now Read On.
External Links