Now Read On
From ZineWiki
Jump to navigation
Jump to search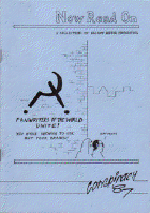 Now Read On is a science fiction anthology edited by Rob Hansen.
Now Read On is a collection of writings and art work taken from fanzines. It was printed in 1987 and is 98 pages. It is a 'Conspiracy Publication'.
Featured are reprinted articles, including an Introduction by D. West; "Birdland" by Kevin Smith (Sfinx, Vector); "A Tale of Two Panels" by Lilian Edwards and Christina Lake (This Never Happens); "How Women Get Pregnant" by Linda Pickersgill Krawecke (Start Breaking Up, Six Shooter); "B24 Liberator" by Greg Pickersgill (Stop Breaking Down); "Splendors & Miseries" by Roz Kaveny; "A Mitcham Mint" by Abi Frost; "Lunch at the Savoy" by Anne Hamill; "Lunch at the Savoy" by Bob Shaw; and Owen Whiteoak.
The cover art is by D. West.
Rob Hansen was also co-editor, with Vince Clarke, Avedon Carol, John Harvey and Pam Wells, of Pulp from 1986 to 1991. As well, co-edited Chuch with Avedon Carol.