Sfinx
From ZineWiki
Jump to navigation
Jump to search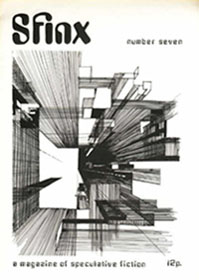 Sfinx was a science fiction fanzine published by the Oxford University Speculative Fiction Group.
Sfinx was published in the UK. The first issue appeared in 1969.
Editors varied with each issue. Issue 1 was edited by Jeremy Gilchrist, Robert Morrow and Sandra J. Burman; #2 by D.A. Parsons, Sandra J. Burman and C.J.K. Morgan; Diana Reed was editor for #3, #4, #5, published 1970-1971; Allan Scott edited #6; Allan Scott and Kevin Smith were editors for #7, which was nominated for a Nova Award for Best Fanzine in 1973, and #8 in 1973; Kevin Smith was editor for #9, published in 1974; Peter D. Jones edited #10, published in 1975; Andrew Chapman edited #11 in 1976. In 1978 Ricky Tyson published a new issue.
In 1982, a new series of Sfinx was begun, starting again with issue 1, and running till issue 7 of May 1995. The only editors listed were for issue 4, and they were Neal Tringham, Maria Hamilton and Ivan Towlson.
David Langford was a frequent contributor. In his book, "The Sex Column and Other Misprints", he describes finding the publication; "So when I went to Oxford for three years of failing to study physics, I was primed to seek out SF contacts. Sure enough, the crowded notice-board of my college (Brasenose) featured the cover of an obviously SF publication called Sfinx - the university SF group's fiction magazine...You could tell the publishers had cosmic minds, by their total failure to provide a price or address. But I tracked them down anyway."
Other contributors of fiction included Dave Abbott, Tim Adye, John Allen,William Bains, Michael Ballance, Jenny Barrett, Sandra J. Burman, J.M. Butterworth, Dominic Camus, Carolyn Clarke, George Codd, Paul Connors, Rosanna Corke, Andrew Darlington (Ludd's Mill), Mark Davies, John Dean, Capt. W. Digby-Worthington, Chris Dollin, Gregory Dowling, Chris Ewels, Mike Figg, Bill Fraser, Jeremy Gilchrist, Colin Greenland, Mike Grey, Erica Hahn, Maria Hamilton, Frances Hardinge, L.J. Hogan, Robert Holdstock (Macrocosm), Mo Holkar, C.M. Holt, Richard Hornsey, Robert Jackson (Maya), Simon Jones, Peter Lorge, D. Arthur Lott, D.P. Martin, Barbara Mascetti, Chris Morgan (Brum Group News), Chris Morris, Bob Morrow, Coralie Morton, Mary Murray, Ruth Paul, Philip Payne, Nick Penfold, Ed Phipps, Richard Pinch, Mark Powell-Jones, Phil Raines, Diana Reed, Paul Robin, Barbara Rochford, Mike Scott Rohan, Niall Ross, Allan Scott, Peter Sidwell, Kevin Smith, Nadia Smulian, Steve Sneyd (Data Dump), Jon South, Carl Stephens, Andrew Stephenson, John Styles, Michael Summers, Rosanna Summers, Ivan Towlson, Neal Tringham, David Upshal, Catherine Watson, Ian Watson, F.A. Watts, Adam Williams, and Steven Wimperis.
Contributors of poetry included Paul Jobin.
Contributors of artwork included Roland Aldridge, Bob Elliot, Debby Hickenlooper, Roger Hobby, Chris Hughes, Matt Nelson, Heidi Pape, Mike Scott Rohan, and Allan Scott.
Kevin Smith was also one of the co-editors of Vector, along with Alan Dorey, Eve Harvey, and Joseph Nicholas for issue #98, with Joseph Nicholas for issues #99-#101, and with Joseph Nicholas, and Paul Kincaid for issues #102-#105.