This Never Happens
From ZineWiki
Jump to navigation
Jump to search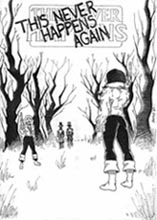 This Never Happens began life as a comics fanzine co-edited by Lilian Edwards and Christina Lake, although later issues reflected their growing involvement with science fiction fandom.
The fanzine was published in the 1980s, in the UK.
Contributors included Tim Jones (Timbre), Dave Langford (Ansible), Simon Ounsley (Lagoon), and others.
Contributing artists included Brad Foster, Rob Hansen (Epsilon, Pulp, Chuch) and Teddy Harvia.
Issue 10 featured a parody of Rob Hansen's fanhistory, "Then". The article "The Fan in the High Castle" by Lilian Edwards, Christina Lake and Simon Ounsley, also from issue 10, was selected for reprinting in the anthology Fanthology '87.
Edwards and Lake were nicknamed "the Twins" and stood successfully as joint candidates for the TransAtlantic Fan Fund.
Both editors contributed to a number of fanzines. Christina Lake went on to co-edit the fanzine Head with Doug Bell. Lilian Edwards went on to co-edit Gloss with Victor Gonzalez, and publish Floss! on her own.
External Links