Rude Bitch
From ZineWiki
Jump to navigation
Jump to search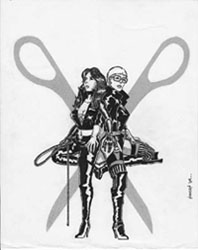 Rude Bitch is a science fiction fanzine by Avedon Carol and Lucy Huntzinger.
Published in the UK, Rude Bitch appeared in October 1983, and was followed by Dear Rude Bitch in the summer of 1984. It was produced by the two fanzine editors while Lucy Huntzinger, from the U.S.A., was in the UK on holiday. Years later, in 2002, Lucy wrote on her blog Aries Moon, "I'm still proud of Rude Bitch and its effect on fandom."
Cover art was by Rob Hansen (Epsilon)
Avedon Carol went on to co-published Chuch, with Rob Hansen, in 1986. The same year she began co-editing Pulp, with Vince Clarke (Science Fantasy News), Rob Hansen, John Harvey, and Pam Wells (Six Shooter, Attitude). Nineteen issues were published between 1986 and 1991.