Zinester Podcasts
From ZineWiki
Jump to navigation
Jump to search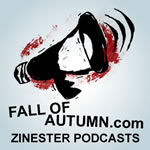 The Zinester Podcasts are free mp3 audio files regularly produced and published by Fall of Autumn, and intended for download and playback through a personal computer or a portable mp3 player.
Format
Characteristically taking the format of short radio segments, episodes in the Zinester Podcast series each feature one writer's presentation of a selection from her/his zine. Common to the show format is a soundtrack mainly featuring independent artists, though some shows instead rely on soundscapes related to the piece being read, like the radio dramas of the '40s and '50s.
Listenership
The Fall of Autumn Zinester Podcasts were initially available only on the Fall of Autumn website, however, the Zinester Podcasts were accepted into Apple's iTunes Music Store and in April of 2006, were broadcasted live on the air during the "The Great Sound Caper" hour on CHMR 93.5 FM in St. Johns, NL Canada.
In January 2007, the 10,000th individual episode was downloaded.
Episode archive
2008
Mitchell Szczepanczyk reading 2 pieces about HDTV and the digital divide. (April 27, 2008)
Gabriel Darling reads about time pieces. Instructions on how to submit a zinester podcast by phone (February 23, 2008)
Aaron Cynic reads from a zine called I, Objector just in time for the 2008 election cycle. (January 27, 2008)
Jeff Disler reading "Lock." (January 23, 2008)
2007
Featuring Kate Sandler, Grant Schreiber, Aaron Cynic, Alicia Dorr, Kelsey Snell, Eric Lab Rat, Andrew Mall and Liz Mason.
2006
2005
External links