Razorcake
From ZineWiki
Jump to navigation
Jump to search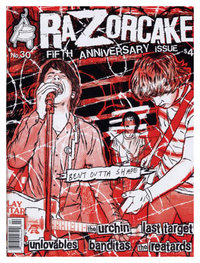 Razorcake is the magazine arm of Razorcake/Gorsky Press, Inc., a non-profit organization based in Los Angeles. It features interviews, columns and reviews, mainly focused on punk rock music. Contributors have included Ben Snakepit, Rev. Norb, Rich Mackin, Ben Weasel, MP Johnson, Amy Adoyzie, Kurt Morris, and others. It has been in publication since 2001.
The magazine was launched by former staff and writers for the defunct zine Flipside. It is published by Sean Carswell and Todd Taylor.
Razorcake was one of the first magazines dedicated to underground music that achieved 501(c)(3) non-profit status, and remains one of the few with that designation. It is distributed internationally, and prides itself on its contributors' entrenchment in the material and communities it covers. Its publishers are currently looking for real estate to develop a community center in Los Angeles.
According to its publishers, "[o]ur job is to be cultural ambassadors. All proceeds go back to keeping Razorcake strong and doing our part to make sure no one steals our culture from us, only to sell it back in a more diluted form."
Razorcake has been featured in Zine Yearbook, and is included in the West Coast Zine Collection at San Diego Stae University.
External links