Flipside
From ZineWiki
Jump to navigation
Jump to search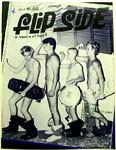 Flipside fanzine was published from 1977 until the year 2000 out of Whittier and Pasadena, California. Flipside was one of the original, longest running, and most well-known punk zines. The fanzine was first published in August of 1977 by a group of friends (Al Kowalewski (a/k/a Al Flipside), Larry Lash, Pooch, Tory and X-8) that graduated from Whittier High School and it chronicled the early Los Angeles punk rock scene. The first issue was a hand-stapled quarter-page photocopied zine. By the late 1980s Flipside had grown to become a glossy-covered newsprint zine averaging well over 100 pages per issue and it's scope and distribution reached world-wide, although it never lost its LA focus. The zine folded due to financial problems caused by Rotz, it's main distributor, declaring bankruptcy while owing the zine a lot of money.
Each issue of Flipside contained columns, band interviews, record and zine reviews, Rodney Bingenheimer's top ten playlists and much more.
Flipside also released a number of video fanzines (compilation videos of live punk bands) and ran a very prolific record label.
In the 1990's Flipside hosted an annual desert show at Jawbone Canyon in the Mojave Desert. Notable bands who played at the show included Fugazi, Hawkwind, and The Offspring.
Al Kowalewski was the zine's publisher and editor thoughout it's entire span. Hudley Flipside was the co-owner with Al from 1979 to 1989.
Flipside staffers and contributors included Dean Ded, Dee, Hilda Unapproved, Gary Indiana, Dan Druff, Karl Markxs, Gus Hudson, Kirk "KRK" Dominguez, Danny Dean, Johnny Bubblegum, Stf, Bob Cantu, Joy Aoki, Blaze James, Joe Henderson, ShitEd (Ed Dawson), Mike Sullivan (a/k/a Thrashead), Gizz Lazlo, Ron Tidwell, Pookie, Martin McMartin, Katsuhiko "Katz" Seki, Thom Bone, "O," Mark Lee, Carlos A. Nunez (a/k/a Cake), Ken "All Night Rocker," Tim Stegall, Shane Williams (a/k/a "The RocknRoll Bankrobber"), Michele Flipside, and Todd Taylor,
Several ex-Flipside writers, including Todd Taylor, went on to start Razorcake.
Early Issue Information
1 - Published 8/28/77, print run of 100, interview with Eulogy, live reviews of The Quick and Devo, LA band gossip and news.
2 - Published October 1977, print run of 200, interviews with The Weasels and The Germs, live reviews of The Weirdos, Runaways, Skulls and more, letter from Rodney Bingenheimer, band news and info.
3 - Published November 1977, print run of 100, art oriented issue with poetry, flyer art, photos and collages.
4 - Published November 1977, print run of 300, interviews with The Weirdos and The Zippers, live reviews of The Avengers, Dils, X, Model Citizens, Dickies, Germs, Devo, Blondie, Bags and more.
5 - Published December 1977, print run of 300, interviews with The Spastics, Backstage Pass, Rodney Bingenheimer, live reviews of The Controllers, The Rippers, X, The Gods, The Clones, The Dead Boys, The Deadbeats, The Skulls, The Germs, The Mumps and many more.
6 - Published January 1978, print run of 400, interviews with The Zippers, Dave Trout (Weirdos), The Spastics, Rodney Bingenheimer and The Skulls, lots of live and record reviews.
External Links