Ben Weasel
From ZineWiki
Jump to navigation
Jump to search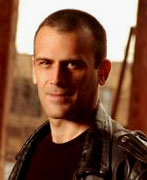 Ben Weasel (born Ben Foster) is a punk singer, writer and zinester from Chicago, Illinois.
In the early 1990s, Weasel published the fanzines Panic Button and Blood on the Ice that focused on punk rock and hockey. As well, he published two one shot zines through Oyster Publications; Brady Bunch Behemoth (1991), and Stab! Stab! Stab! (1992). Weasel has also written for various other zines, including 10 Things Jesus Wants You To Know, Razorcake, and had a long-running column in Maximum Rock'n'Roll. In 2006, he began a regular column in the zine Jersey Beat.
In 2001, Weasel wrote a novel called Like Hell and put out a collection of his columns and articles in 2002 entitled Punk is a Four Letter Word. Both books were published by Hope and Nonthings, a small publishing house based in Chicago run by former bandmate John "Jughead" Pierson.
In his music career, Ben Weasel was the lead singer of punk rock band Screeching Weasel, as well as The Riverdales. He also ran his own Chicago-based label called Panic Button. In recent years he has released one solo album and is currently working on a follow up to it and has begun a new digital only label called Mentoda Recording Co. He also hosts his own radio show, Waubesa Radio.
Zines
Contributions
Books
Like Hell, 2001
Punk is a Four Letter Word, 2002
External Links