Hit List
From ZineWiki
Jump to navigation
Jump to search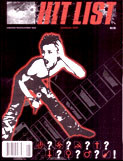 Hit List was a fanzine published by Jeff Bale out of Berkely, CA.
Shortly after Tim Yohannan of Maximum Rock'n'Roll died in April of 1998, longtime writer and columnist Jeff Bale left the legendary punk zine to start Hit List. He took along two other longtime MRR writers, Mel Cheplowitz and Brett Mathews and recruited a number of other prominent punk writers, including Jack Rabid of The Big Takeover, Feederz frontman Frank Discussion, East Bay Ray, Alan Wright, Ben Weasel, Rev. Norb, Al Quint and Rev. Randall Tin-Ear. Later Claude Bessey from Slash also wrote for Hit List.
Hit List was a large fanzine that focused on punk and underground rock. It's format was similar to MRR, but without the politics and scene reports and more emphasis put on band interviews. It was published six times a year at the end of the 1990's and for a few years into the next decade.