Joe Biel
From ZineWiki
Jump to navigation
Jump to search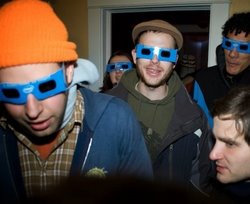 Joe Biel (aka Abner Smith, Boe Jiel, Beau Gheale) is a zinester, videomaker, and founder of Microcosm Publishing, Cantankerous Titles, and co-founder of the Portland Zine Symposium. He grew up in Cleveland and Pittsburgh before resettling in Portland, OR in 1999, where he still lives.
Joe was first introduced to zines in 1994 when Jake Kelly was selling copies of his zine "Summer" at the Euclid Tavern in Cleveland. Joe had given up on reading as a result of high school, and "Summer" was the best thing he had read to date. As a result he pursued all zines he could find and soon started writing his own.
Joe founded Microcosm Publishing in 1996 in his large bedroom with a small adjoining office and a couple boxes of zines, books, and records; he was its sole employee for the first 5 years. In the late 90s he could frequently be seen hauling milk crates full of zines to sell/trade/give away at punk shows at the Euclid Tavern and Speak in Tongues. This is how Microcosm Publishing was born and was a jumping off point to meeting the active zine-making community in Cleveland at the time, including Rob Tuff, Mike Rodemann, Danny Noonan, Liz McAdams, Jake Kelly, Krissy Gregory, Brad Petrigala, Al Karpinski, and Rae Nester. Going to More Than Music Festival was also a big early inspiration for Joe to work more actively with zines and organize events like the Portland Zine Symposium.
Joe was the roadie for bands like Chalkline, Fla Flas, Cripple Kid, Bedford, and Mid Carson July where he would distro zines at punk shows around the US. He recently toured with Propagandhi and The Bouncing Souls. Microcosm has also recently toured with Against Me, Strike Anywhere, and Defiance, OH. Joe co-founded the Portland Zine Symposium with Nicole Georges and Eleanor Whitney in 2001. In recent years he has been a major driving force behind the concept of the "zine tour", which has evolved into Dinner + Bikes, a multimedia film/food/presentation/zine tour that scours small towns in the U.S. with Joshua Ploeg and Elly Blue
Joe has taught countless workshops about how to start locally based co-op distribution models for print publications and has produced four feature films, including If It Ain't Cheap, It Ain't Punk: Fifteen Years of Plan-it X Records", $100 & A T-Shirt, Aftermass: Bicycling in a Post-Critical Mass Portland, and Of Dice & Men.
He recently released Beyond the Music, wherein he interviews people who grew up in punk but persued things other than playing music, and a collection book of back issues of the zine The CIA Makes Science Fiction Unexciting.
After not having written zines for a number of years, he released new issues of Bipedal, By Pedal and The Scorcher. He claims a seventh issues of The CIA Makes Science Fiction Unexciting will be released in 2014.
Bibliography
Columns
Contributions to Compzines
Documentaries/Talkies
Podcasts/Audio Recordings
An Interview with Alan Lastufka for the Zinester Podcast series.
KBOO Bike Show Interview about bike artists with Sara Stout and Ayleen Crotty.
Acknowledged on the 410media.com feature about on the DIY Portland show
Podcast Interview on ZineVox
Interviews
Powell's Website Readers Guide to the Underground Press #25 Punk Planet #42 Maximum Rock n Roll #251
Zines & Books
Zine Tours
External Links