Nicole Georges
From ZineWiki
Jump to navigation
Jump to search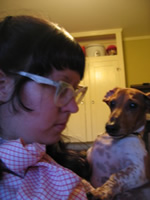 Nicole J. Georges is a zinester, artist and musician who lives in Portland Oregon and works at the Independent Publishing Resource Center.
She is the author of the zine Invincible Summer, an autobiographical mixture of comics, writing and illustrations. During the past nine years, Nicole has annually teamed up with Clutch McBastard and his zine Clutch for an split issue of their zines that features the work of both cartoonists.
Nicole is a founder of the Portland Zine Symposium, and an organizer of the Midwest Underground Media Symposium.
Originating in Kansas City, Georges moved to Portland, OR in 2000 and started Invincible Summer with caffeine and free time as motivators.
She has played with the bands Fact or Fiction, The Sour Grapes, The Bitter Dykes, and The Death Eaters.
Bibliography
Zines
Contributions to other zines
Books
Invincible Summer Anthology 2004 (author)
DIY in PDX
Boys Will Be Girls Will Be
Food and Booze
Baby Remember My Name
Calling Dr. Laura
Fetch
On Film
Discography
No More Drama by the Sour Grapes
demo by ?Fact or Fiction
live recording by The Bitter Dykes
live recording by The Death Eaters
External Links