Not My Small Diary
From ZineWiki
Jump to navigation
Jump to search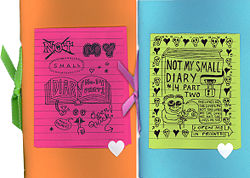 Not My Small Diary, a compilation of small press artists' auto-bio comics, is edited by Delaine Derry Green, and was first released in 1996 as an offshoot of Delaine's auto-bio comic, My Small Diary. It is published in the U.S.A.
Still going strong, these comic zines have attracted a diverse, talented contributor base including such artists as Donna Barr, Hilary Barta, Suzanne Baumann, Edward Bolman, Kyle Bravo, Tim Brown, Brian Buniak, Ian Carney, Peter S. Conrad, Bobby Tran Dale, Jonathon Edwards, Matt Fagan, Matt Feazell, Shawn Granton, Nicole Georges, Ayun Halliday, Doug Holland, Wil Kane, Dave Kiersh, De Kwok, MariNaomi, Missy Kulik, Eric Lyden, Clutch McBastard, Carrie McNinch, Dan Moynihan, Jeff Plotkin, John Porcellino, Jesse Reklaw, Ed Repka, Androo Robinson, Kelly Shortandqueer, David St. Albans, Anne Thalheimer, Yul Tolbert, Mike Tolento, Andi Watson, Jeff Zenick and hundreds more.
Contributors of art work included Brad Foster, among others.
Starting with Issue 9, each issue has been released in two joint volumes. Many issues have featured unusual bindings, such as safety pins (Issue 11) or shoelaces (Issue 13). The first 10 issues of NMSD had no theme other than general autobiographical stories. The themes of subsequent issues included:
Issue 11: Childhood Stories - Age 11 and Under
Issue 12: After Midnight - Late Night Tales
Issue 13: Luck of the Draw
Issue 14: Dating
Issue 15: Brushes With Celebrity
Widely praised for excellent layout and design, the Small Diary collection has been well received by reviewers and readers the world over. NMSD and MSD have appeared on the Favorite Zine list of the now defunct Zine Guide publication.
These zines have appeared in the following museum shows: Dark Matter at the Baltimore Museum of Art, 2004; Art of Zines at the San Jose Museum of Art, 2004; and Dear Diary: The Autobiographical Comic Book at the Athens Institute of Contemporary Art, 2006. The Small Diary zines have ridden aboard the Mobilivre-Bookmobile traveling library of independent publications that toured across North America. They appear in several library collections including ones in Denver, Seattle and Utah among others.