Jeremy Robert Johnson
From ZineWiki
Jump to navigation
Jump to search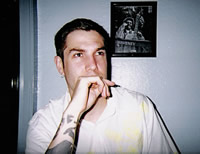 Jeremy Robert Johnson (born September 21,1977) is a US author who lives and writes in Portland, Oregon. He was nominated for the Pushcart Prize in 2000, 2002, and 2006. He is considered a writer of Bizarro fiction.
Bibliography
Books
"Extinction Journals" Swallowdown Press 2006
"Angel Dust Apocalypse" Eraserhead Press 2005
"Siren Promised" (with Alan M. Clark) Bloodletting Press 2005
Contributions to Anthologies
The Bizarro Starter Kit (Contributing Author) Bizarro Press 2006
"Last Thoughts Drifting Down" TEL : Stories, 2005 Wheatland Press
"The Gravity of Benham Falls" Ghosts at the Coast: The Best of Ghost Story Weekend Vol. II 2005 TripleTree Pub
"Luminary" Darker Than Tin, Brighter Than Sin, 2004 Cafepress Publishing & Rabe Phillips
"Amniotic Shock in the Last Sacred Place" Pain and Other Petty Plots, 2003, IFD Publishing
Podcasts/Audio Recordings
"The Sharp Dressed Man at the End of the Line" read in July of 2006 for the Zinester Podcasts series.
Short Stories
"A Flood of Harriers" Cemetery Dance #56, September 2006
"The Sharp Dressed Man at the End of the Line" Verbicide #16, March 2006
"Priapism" (reprint) The Meat Socket #5, March 2006
"Amniotic Shock in the Last Sacred Place" The Meat Socket #5, March 2006
"Swimming in the House of the Sea" (reprint) Verbicide #15, November 2005
"Dissociative Skills" City Slab #6, April 2005
"Snowfall" Verbicide #13, March 2005 Nominated for the 2006 Pushcart Prize
"The League of Zeroes" Verbicide #11, May 2004
"Sparklers Burning" Horrorfind, January 2004
"Working At Home" THE EDGE- Tales of Suspense #18, January 2004
"Deeper" Glass Tesseract - Vol. 3, Summer 2003
"A Number of Things Come to Mind" Happy #17 2002 Nominated for the 2002 Pushcart Prize
"Liquidation" Happy #15 2000 Nominated for the 2000 Pushcart Prize
Interviews
"Steve Vernon w/Jeremy Robert Johnson" Cemetery Dance #56, September 2006
"Hernan Ortiz w/Jeremy Robert Johnson" Generacion, May 2006
"SCI FI Wire & JJA w/Jeremy Robert Johnson" SCI FI Wire, April 2006
"Message Board of the Damned w/Jeremy Robert Johnson" April 2006
"Mikhail W/Jeremy Robert Johnson" The Meat Socket #5, March 2006
"Brian Keene W/Jeremy Robert Johnson & Other Bizarros" Hail Saten, December 2005
"James Beach W/Alan M. Clark & Jeremy Robert Johnson" Dark Discoveries #4, March 2005
External links