Eric Lab Rat
From ZineWiki
Jump to navigation
Jump to search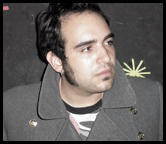 Eric Lab Rat (aka Eric Labrat) is a zinester, columnist, DJ, and event coordinator from Chicago, IL.
Eric Lab Rat published his perzine Are You there, god? It's me, Lab Rat in 2009.
Eric is a regular contributor to The Machine Media, a local free newsprint zine, and Foul, a zine by Brandon Wetherbee. He has been featured on the Zinester Podcasts of both 2006 and 2007, reading from his writings.
Zines
Contributions