Pups
From ZineWiki
Jump to navigation
Jump to search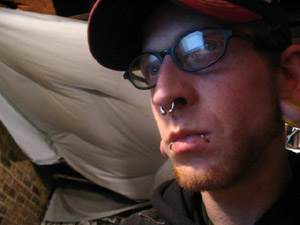 Biography
Pups (formally Puppy Dave) is a Chicago-based zine writer and distro owner. He responds to the names Pups, Dave, or Puppy Dave. Dave has lived in Chicago for nine years and has been making zines as a hobby for half his life. His favorite bands are Team Dresch, Mob 47, Skitsystem, Homomilitia, Confuse, Battle of Disarm, etc. His favorite zines are The Assassin and The Whiner, Food Geek, Ten Foot Rule, Red Hooded Sweatshirt, and Slug and Lettuce.
Projects
His first zine was released in 1993 and was called Consume. It was made in collaboration with Jon Pixie. Consume included poems, rants, lots of swearing and recipes for homemade bombs, landing the 7th-grade writers in trouble with their school. There was only one issue of that zine produced.
A year later, the duo started a zine called Dresspants which was similar to Consume but lacked the first zine's sense of rage for the school system. They put out 10 issues together, the last of which was released in 1997.
Dave currently writes a "per/queer/punk" zine called Black Carrot (#1-#8). He also has written a zine called Sebrakakku ("Zebra Cake" in Finnish) and some other well-known one-shots such as How I Learned To Love Myself and Occasionally Other Men, Willow Run and I Like To Taste Things.
He runs a zine/tape distro called Grilled Tuna which mainly operates based on trades.
A photo of Pups appears on the back of READ zine #5.