Slug & Lettuce
From ZineWiki
Jump to navigation
Jump to search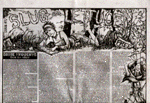 Slug & Lettuce is a free quarterly newsprint zine based in Richmond, Virginia.
Slug & Lettuce began in New York, NY in 1986. Slug & Lettuce contains columns pertaining to anti-authoritarian politics, veg/vegan action, radical parenting, DIY culture, gardening, activism etc. Slug & Lettuce also features zine, book and record reviews, and Christine Boarts-Larson's photography. The final print issue was published in 2007, Issue #90, the 20th anniversary issue.
Slug & Lettuce has featured the comic Zero Content by Fly, the Folk Punk art of Jeremy Clark & the Medieval Punk art of Sean "Goblin" Aaberg .
Christine Boarts-Larson also writes a column for Maximum Rock'n'Roll and runs a book distro.
Christine posted an online archive of Slug & Lettuce columns, photos and artwork in August, 2011.
Contact
Slug & Lettuce
PO Box 26632
Richmond, VA 23261-6632
Individual copies are available for 60 cents in stamps.
External links