Peon
From ZineWiki
Jump to navigation
Jump to search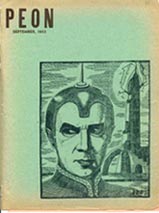 Peon was a science fiction fanzine by Charles Lee Riddle (d. October 18, 1968), published in Norwich, Connecticut, U.S.A.
Peon was a long-running fanzine of the late 1940s and into the 1950s. Thirty eight issues were released, the last issue, #38, in 1957. The fanzine was published even while Riddle was on active duty in the U.S. Navy. The fanzine featured an editorial by Riddle, articles, fiction, poetry, and regular columns.
Cover artists included Jerry Bixby, Jerri Bullock (Fan Artisan), Dick Carver, Les Chapman, Margaret Dominick (as DEA), Ed Emshwiller, John Grossman, Lee Hoffman (Quandry), Jerry Hopkins, Ron Rentz, Jack R. Waida, and D. Young.
Art work was contributed by Joe Bowman, Jerry Hopkins, Alan Hunter, Charles Lee Riddle, cartoons by Rd Hughes and Dennes Morton, and illustrators from the Fantasy Art Society of Britain.
Written contributions came from Isaac Asimov, Jerry Bixby, James Blish (The Planeteer), Robert Bloch, Stuart M. Boland, Anthony Boucher, John Brunner (Noise Level), Donn Brazier (Frontier), Alice Bullock, R. Flavie Carson, Bill Champion, Jack Cordes, Tom Covington, Roy Cummings, Gerry de la Ree (Loki, Sun Spots), Franklin M. Dietz, Jr. (Science, Fantasy, and Science Fiction), Isabelle E. Dinwiddle, Harlan Ellison (Science Fantasy Bulletin), E.E. Evans, Erik Fennel, W. Paul Ganley as Toby Duane (Fan-Fare), Horace Gold, Vaughn Greene, Jim Haden, Joe E. Hensley, Lee Hoffman, Gene Hunter, Nicholas Hurd, John A. Keel, David H. Keller, Alfred C. Lane, Edward W. Ludwig (Fantastic Worlds), Ian T. Macauley (Cosmag), John Marim, Dave Mason (Coup), Vernon McCain (Wastebasket), Carol McKinney (Deviant), Len Moffatt (The Outlander), A. Nebi, Bob Ottum, Claude Plum, E. Hoffman Price, Art Rapp (Spacewarp), Jack Riggs (Lethe, Unknown Index), Larry Saunders, Robert Silverberg (Spaceship), Ken F. Slater (Vector), H.S. Weatherby (Shivers), Wally Webber (Cry of the Nameless), James White (Slant), Everett Winne and Edward Wood.
Poetry was by Art Rapp, and Rick Sneary (Moonshine).
Columns were by Terry Carr (Innuendo), Dick Clarkson, Jim Harmon, Roy Tackett, Hal Shapiro (STF & FSY Songbook), T.E. Watkins, and fanzine reviews by John Ledyard and Ian Macauley.