Bill Rotsler
From ZineWiki
Jump to navigation
Jump to search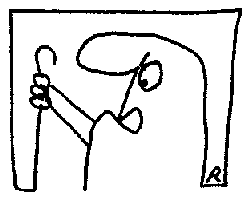 William "Bill" Rotsler (July 3, 1926 - October 8, 1997) was a professional writer, photographer and illustrator who provided thousands of cartoons for fanzines in the USA, Canada, and UK.
His artwork continues to appear in fanzines, and it is estimated that there are thousands of Rotsler illustrations which haven't appeared anywhere yet. He was known in both science fiction fandom (from the 1940s through the 90s), doing work for publications such as Science Fiction Five Yearly, and in early Rock 'n Roll zines, including covers for the early rock fanzine Bomp. He won five Hugo Awards for Best Fan Artist and published several fanzines, including KTEIC for many years.
In his professional career, Rotsler wrote erotica, several novelisations of Hollywood movies and photographed models for Playboy.
Zines
Selected Contributions