Khatru
From ZineWiki
Jump to navigation
Jump to search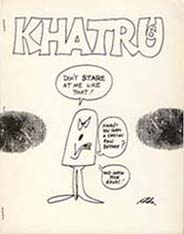 Khatru was a science fiction fanzine by Jeffrey D. Smith.
Khatru was published in the 1970s. When it first appeared in 1970 it was named Phantasmicon, but soon after the name was changed to Khatru.
In 1975, Khatru editor Smith began the "Khatru Symposium of Women in Science Fiction", which took place in the mail over a seventh month period, and was published in a double issue ( 3 & 4) in November. The participants were Suzy McKee Charnas, Samuel R. Delany, Virginia Kidd (Snarl, Kinesis), Ursula Le Guin, Vonda N. McIntyre, Raylyn Moore, Joanna Russ, James Tiptree, Jr., Luise White, Kate Wilhelm, and Chelsea Quinn Yabro, and the editor.
Contributors to other issues included Jeffrey Frane (Hedgehog), and Angus Taylor. Taylor's essay in issue 1, "Reactionary Ideology in Science Fiction" has been noted as influential.
Contributors of art included Grant Canfield, Phil Foglio, Jeffrey Frane, Mark Gerson and William Rotsler.
Also included were interviews with musician Jon Anderson of the band Yes, and writer Dick Francis with researcher Mary Francis, and with writer James Tiptree, Jr.