Hedgehog
From ZineWiki
Jump to navigation
Jump to search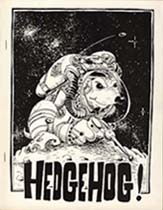 Hedgehog was a science fiction fanzine by Jeff Frane.
Hedgehog was published in Seattle, Washington, U.S.A. Two issues of this publication were released in the 1970s. The first issue came out in 1977, with issue two following in 1978.
Writing contributions appeared from Grant Canfield, Jessica Amanda Salmonson (The Literary Magazine of Fantasy and Terror), and Dan Steffan (Boonfark).
Contributions of art work appeared from John Carl, Jim McLeod, and Randy Mohr, who did the cover for issue two.
Jeff Frane also did the fanzine Samizdat, contributed to Khatru and Locus, and wrote Fritz Leiber for the Starmont Reader's Guide series (1980).