Fanthology 1994
From ZineWiki
Jump to navigation
Jump to search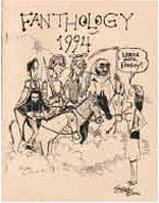 Fanthology 1994 is a science fiction anthology edited by Robert Lichtman.
Fanthology 1994 is an anthology of outstanding writing that appeared in fanzines released in 1994. It is a photocopied publication of 63 numbered pages, of which 200 copies were printed.
The cover is by Stu Shiffman.
Featured fanzine writers include Jae Leslie Adams (Wabe), Lenny Bailes, Gregory Benford (Void), Vince Clarke (Pulp, Science Fantasy News), Bill Donaho (Habakkuk), Lilian Edwards (This Never Happens), Gordon Eklund, John Foyster (Australian Science Fiction Review (second series)), Andy Hooper (Fanthology '89, Apparatchik), Lucy Huntzinger (Rude Bitch), Mark Kernes, Dave Langford (Ansible), Simon Ounsley (Lagoon), Greg Pickersgill (Rastus Johnson's Cakewalk, Stop Breaking Down), Nigel Richardson, William Rotsler, Dale Speirs (Opuntia), Dan Steffan (BLAT!), and Ted White (BLAT!).
Robert Lichtman also publishes the fanzine Trap Door.