Fanhistory
From ZineWiki
Jump to navigation
Jump to search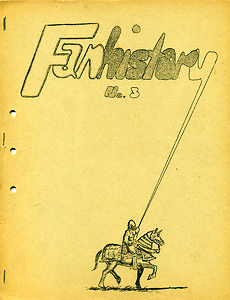 Fanhistory was a science fiction fanzine by Lee Hoffman.
Three issues of this title appeared in the mid-1950s. It was a mimeographed fanzine on Twiltone paper. The editorial board was listed in issue 3 as Lee Hoffman, "editor, publisher, whip-cracker"; Larry T. Shaw, "asst. ed., writer, slave"; Walt Willis, "assoc. ed., ghod, damon knight fan"; Harry Warner, Jr., "fanzines retired, and staff consultant; Arthur Thomson, "staff artist in charge of drawing staffs".
Issue 1 was published February 1956, featuring contributions of writing from Larry Shaw (Leprechaun, Science*Fiction), Jack Speer, Harry Warner, Jr. (Horizons), and Walt Willis (Hyphen).
Issue 2 features the subtitle; "Fandom. First. Last. And always.", next to a drawing of a propeller beanie.
Issue 3, released in April 1956, is 22 pages, and devoted to fan, author and anthologist Damon Knight. Lee leads off with an account of how she first met Damon in an elevator at the 1955 Worldcon in Cleveland, Ohio. Harry Warner, Jr. follows with an article about Damon's legendary fanzine, Snide, two issues of which were published in 1940/41. James Blish (The Planeteer) contributes an anecdotal piece about various interactions with Damon; Laura Cohen writes of naming her first-born son after Damon; Chet Cohen writes of meeting Damon in New York; and Larry Shaw contributes two pieces about Damon.
Lee Hoffman had previously published Quandry in the early 1950s, as well as the folk fanzines Caravan and Gardyloo, and continued publishing the long running Science Fiction Five Yearly. She had also released a few issues of The Chattahoochee, Okefenokee, & Ogeechee Occasional Gazette, and later Chooog.