Not One Of Us
From ZineWiki
Jump to navigation
Jump to search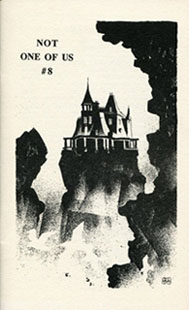 Not One Of Us was a small press publication edited by John M. Benson, with Associate Editors Anke Kriske and Tina Reigel.
Not One Of Us was released between 1986 and 2010, with more than 40 issues published in that time. It was a literary zine devoted to horror and fantasy, and publishing both fiction and poetry.
Contributors of fiction included Steve Antczak, Chris Bell, Antony Bennett, John Benson, Terry Black, Bruce Boston, Paul Bradshaw, Gary A. Braunbeck, Cliff Burns, Carol Cail, Tony Cobb, Tom Condarcure, Monica Nehm Cook, A.J. Cox, Deidra Cox, Dan Crawford, Stephen R. Crawford, Ron J. Cruz, Lillian Csernica, P. Curran, Holly Day, Sherry Decker, Thomas Deja, Stefano Donati, J. Spencer Dreischarf, Wayne Edwards (Palace Corbie), Dave Eisenstark, Steve Eller, Tom Elliot, Morgan Fields, Jack Fisher (Flesh & Blood)), Kay Fortunato, Bob Gates, Michael Gillis, Ken Goldman, Julie R. Good, Katherine Harbour, D.W. Harison, Barb Hendee, Eric Hermanson, Andrew Hook, Sophie Hosandir, Gerard Daniel Houarner, Francis Huff, Jeff Hufford, Nancy Malvina Ibsen, Geoff Jackson, Leonard Jansen, Nathaniel Johnson, Jr., Ceri Jordan, Chris Kenworthy, Robert Krawiec, Charles Richard Laing, William Laughlin, James Lecky, D.F. Lewis (Nemonymous), Seth Matthew Lindberg, Miroslaw Lipinski, David Logan, Elizabeth Massie, D.R. McBride, Richard F. McGonegal, Mark McLaughlin (The Urbanite), Paul J. Melko, Jr., Wendell Metzger, Adam Meyer, James Miller, Shelley Moore, Jill M. Morgan, Lucia Nevai, Kurt Newton, Ray Nickford, Carol T. Noble, Jeffrey Osier, Kim Padgett-Clarke, S. Lawrence Parrish, Norman Partridge, Dane Patton, Celeste Paul, Jack Pavey, Elisabeth Perrin, Tom Piccirilli (Epitaph), Todd Powell, David Price, Stephen M. Rainey (Deathrealm), Tina Reigel, Loren Rhoads, Mark Rich (The Magazine of Speculative Poetry), Kate Riedel, William Rose, Barbara Rosen, Patricia Russo, Katherine X. Rylien, Richard Sharpless, Robin Lochlann Spriggs, Lester Thees, Jeff VanderMeer, Steve Vernon, S.C. Virtes (Sycophant), Jack Wainer, Carroll Welker, Heather G. Wells, Neil Williamson, C.D. Wendig, and t. Winter-Damon.
Contributors of poetry included Michael A. Arnzen, Blythe Ayne, Nancy Bennett, Ace Boggess, Eryc Bourland, Carl Buchanan, Donna Taylor Burgess (The Blue Lady), C. Darren Butler (Magic Realism, A Theater of Blood), Vincent Cannella, Michael A. Chaney, Stepan Chapman, Bob Cook, Jennifer Crow, Keith Allen Daniels, Andrew Darlington (Ludd's Mill), Holly Day, Adam Dowis, Kathryn A. Drexel, Denise Dumars, Wayne Edwards, Lorin Emery, A.E. Figueredo, Sean Russell Friend (Overspace), C.S. Fugua, Scott E. Green, John Grey, J.C. Hendee, William Jacklin, Kevin S. Kantola, Herb Kauderer, Ladonna King, Ronald Edward Kittell, Judy Klass, David C. Kopaska-Merkel (Star*Line), T.W. Kriner, Doni A. Lazenby, Lisa Lepovetsky, Cindy Main, Dawn Martin, Marilyn K. Martin, Brian Maycock, Mark McLaughlin, Logan McNeil, Todd Mecklem, Wendell Metzger, Jamie Meyers, Errol Miller, Cindy Moser, Joy Oestreicher, Christopher Pierson, John R. Platt, Karen R. Porter, Nancy Purnell, Jacie Ragan, J. Richard Reed, Janet P. Reedman, Richard Reeve, Tom Reynolds, John B. Rosenman, Jessica Amanda Salmonson (Fantasy Macabre), Delia Shiflet, Marge B. Simon (Star*Line), G. Tod Slone, David Smith, Stephanie Smith, Steve Sneyd (Data Dump), Kurt Sobolik, Margo Solod, Sisan Spilecki, Mary E. Spock (Rictus), Geoff Stevens, W. Gregory Stewart, Sue Storm, Kiel Stuart, Carter Swart, Jeffrey Thomas, Brandon W. Totman (Contortions), Karen Verba, Paul Weinman, Michael While, Mary Winters, and Gary J. Whitehead.
Contributions of cover artwork came from Ray Basham (#7), John Borkowski (#6, #8, #11, #12, #13), Alan Casey (#14, #17), Brian Coundiff (#24), Kevin Duncan (#9), David Grilla (#15), Ron Leming (#10, #23), Gary McClusky (#16), Augie Wiedemann (#18, #19, #20, #25).
Interior illustrators included Karl Benson, Marge Simon, Augue Wiedemann, Eric York.
John M. Benson was also one of the editors of Doppelganger.
External Links