The Magazine of Speculative Poetry
From ZineWiki
Jump to navigation
Jump to search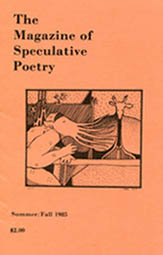 The Magazine of Speculative Poetry was a small press publication by Roger Dutcher and Mark Rich.
Founded in 1984 by Mark Rich and Roger Dutcher, thirteen issues were released by both editors until Mark Rich left, and Roger Dutcher continued publishing The Magazine of Speculative Poetry. It is published in Beloit, Wisconsin, U.S.A. and is devoted to science fiction and fantasy poetry, and also contains news and reviews. As of 2012, it was still being published.
Over the many years it has been published, some of the contributors have included Duane Ackerson, Alfredo Alamo, Peggy Sue Alberhasky, Brian Aldiss, Mike Alexander, Mike Allen (Mythic Delirium), Marion Arena, Ivan Arguelles, Lee Ballentine, Ruth Berman (All Mimsy, SH - sf Fanthology, T-Negative), Michael Bishop, Robert Borski, Harry Bose, Bruce Boston, Eryc Bourland, Harold Bowes, Lisa M. Bradley, Carri M. Campanile, Melissa Cannon, Kevin Carollo, G.O. Clark, Michael R. Collings, S.R. Compton, Jennifer Crow, Holly Day, Ray DiZazzo, James S. Dorr, Denise Dumars, Miarianne J. Dyson, Ron Ellis, Timons Esaias, Kendall Evans, Michael Finlay, James Fowler, Robert Frazier (Speculative Poetry Review, Star*Line), Philip Fried, Jeannine Hall Gailey, Lyn C.A. Gardner, Terry A. Garey, Margaret Palmer Gordon-Espe, Taylor Graham, Scott E. Green, David Greenslade, Charlee Jacob, P.M.F. Johnson, Jacqueline Jones, Andrew Joron (Velocities), George Kalamras, Herb Kauderer, Scott A. Kelly, Eileen Kernaghan, Geoffrey A. Landis, Mary Soon Lee, Yoon Ha Lee, D.F. Lewis (Nemonymous), Sandra Lindow, Rachael M. Lininger, Karawynn Long, David Lunde, Kurt MacPhearson, Elissa Malcohn (Star*Line), Joanne Merriam, Robert Randolph Medcalf, Jr (Apogee), David Memmott (Ice River), Errol Miller, Bonnie Morris, Drew Morse, Sheila E. Murphy, John Nichols, Andrew Nightingale, Shari O'Brien, Joy E. Oestreicher, Krzsztof Ostaszewski, Isabelle Perrin, Ace G. Pilkington, Tim Pratt (Flytrap, Star*Line), Stan Proper, Jessy Randall, Kathryn Rantala, Wendy Rathbone, Richard Rawles, Mark Rich, James Sallis, Charles M. Saplak, Ann K. Schwader, Daniel M. Shapiro, John Oliver Simon, Marge B. Simon (Star*Line), Steve Sneyd (Data Dump), William Stafford, W. Gregory Stewart, Sonya Taaffe, Nancy Ellis Taylor, Steve Rasnic Tem (Umbral), roibeard Ui-neill, s.c.virtes (Alpha Adventures, Sycophant), Jamie Wasserman, William John Watkins, Robert F. Whisler, t. Winter-Damon, Rick Yennik, and Jane Yolen.
Also included were reprints of poems by Valery Bryusov.
Cover art was by Lynski and Mark Rich.
Mark Rich had previously co-published Treaders of Starlight and The Silent Planet in the 1970s. Roger Dutcher had previously published Uranus.
External Links