Flesh & Blood
From ZineWiki
Jump to navigation
Jump to search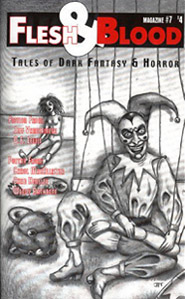 Flesh & Blood was a small press publication devoted to horror, edited by Jack Fisher.
Flesh & Blood was published in Bayville, New Jersey, U.S.A. in the late 1990s and early 2000s. 17 issues appeared. With issue 13 it went from a small press publication to a newsstand publication.
Contributors of poetry included Arlene Ang, Nancy Bennett, John Braunseum, Cathy Buburuz (Champagne Horror), Donna Taylor Burgess (The Blue Lady), JW Donnelly, James Dorr, Kendall Evans, Richard Fein, Todd French, Richard Gessner, Jeff Glover, John Grey, Jon Hansen, Chad Hensley, Sherrie Holmes, Charlee Jacob, Sarah Jacobs, Carol MacAllister, Luke Majors, Cindy Main, Mark McLaughlin (The Urbanite), Samuel Minier, Rochelle Mitchell, Kurt Newton, John Picinich, Jacie Ragan, Wendy Rathbone, Angel Reign, Gabrielle Rolle, Ann K. Schwader, Abram Sirignano, Douglas Stokes, David Hunter Sutherland, Kimberly Thomas, Lake Vajra, Jamie Wasserman, and Walter Whitman.
Contributors of short stories included Trevor Aaronson, Forrest Aguirre, Cathy Buburuz, A.S. Burden, Donna Taylor Burgess, Pamela Chillemi-Yeager (Fantasque), Lee Clark, Suzanne Donahue, David Felts, Jack Fisher, Corbin M. Gill, D.G.K. Goldberg, Ken Goldman, Gene-Michael Higney, John Hodges, Brian Hopkins, Bill Hughes, Charlee Jacob, Bill Ke'tpi, Michael Laimo, Charles Richard Laing, Mary Soon Lee, Traci Leinberger-Leonardi, D.F. Lewis (Nemonymous}, Tracy Majka, K.R. McGee, Matt McGovern, Jon Merz, Kristopher Monroe, Ioan Petrocoulapis, Wendy Rathbone, L.K. Rogers, John Rosenman, Mary Sass, Scott Sigler, Robin Lochlann Spriggs, G.W. Thomas, Scott Thomas, John Urbancik, Jeff Vandermeer, and David Niall Wilson.
Articles were by Jeff Roth.
Cover artwork was by Jamie Oberschlake, and Jeffrey Thomas, among others.
Interior illustrations were by Cathy Buburuz, Terry Campbell, Colleen Crary, Russell Dickerson, H.E. Fassl, Dave Fode, Kenneth B. Haas III, Alfred Klosterman, Keith Minion, Julia Morgan-Scott, Phil Renne, and Jeffrey Thomas.
Interviews were featured in several issues including Issue 1 and 8 with Tom Piccirilli, editor of Epitaph, Issue 2 with Yvonne Navarro, Issue 3 with Ed Bryant, and Issue 4 with Poppy Z. Brite.
External Links