A Theater of Blood
From ZineWiki
Jump to navigation
Jump to search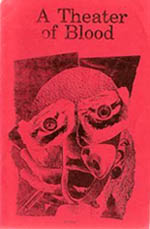 A Theater of Blood was a small press magazine edited by C. Darren Butler and published by Pyx Press.
C.Darren Butler of Orem, Utah, U.S.A., released this literary zine devoted to horror, weird fiction and poetry in the 1990s. Issue 3 appeared in 1991, issue 4 in Fall/Winter 1992, and issue 5 was released in Spring 1994.
Cover art was by Dan Nielsen (#3), Cathy Buburuz (Champagne Horror) (#4), and Blair Wilson (#5).
Contributors of fiction included William Bunce, Alan Catlin, Keith Allen Daniels, J.W. Donnelly, Brian Evenson, Holly Day, Pat Graversen, Samantha Henderson, D.F. Lewis (Nemonymous), Chris Magee, Robert Nagler, John Piwarski, Charles M. Saplak, Richard Sharpless, Adam Thornton (Lost), Kelly Washbourne, and Matthew Wills.
Contributors of poetry included Denise Dumars, Michael Estabrook, Taylor Graham, Joan Austin Geier, John Grey, Lisa S. Laurencot, Gregory L. Norris, Joy Oestreicher, William E. Passera, Simon Perchik, Androula Pistolas, John B. Rosenman, Ann K. Schwader, Chris Tannlund, William Jon Watkins, and Paul Weinman.
C. Darren Butler also co-published, with Julie Thomas, the small press magazine Magic Realism.