Lost
From ZineWiki
Jump to navigation
Jump to search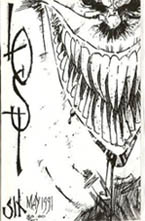 Lost was a small press publication by Clay Boutilier and Adam Thornton.
Published in Kitchener, Ontario, Canada, at least 6 issues of this magazine devoted to weird fiction and horror writing appeared in the 1990s. The first issue was published in February 1990. Lost also included comics, plays and art work.
Cover art work was provided by Bill Bendix (#6) and Clay Boutilier (#1, #2). Interior illustrations were by Clay Boutilier and Adam Thornton, and comics were by Clay Boutilier.
Contributions of fiction included Detlef Burghardt, C. Darren Butler (A Theater of Blood, Magic Realism), Pam Chillemi-Yeager (Fantasque), D.F. Lewis (Nemonymous), Gary Lynn Morton, Paul Pinn, and Mark Rich (The Magazine of Speculative Poetry, Treaders of Starlight, The Silent Planet).
Issue two included the play "Grave Daze" by Pauline Poisonous.