Contortions
From ZineWiki
Jump to navigation
Jump to search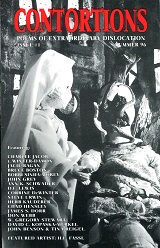 Contortions was a small press publication edited by Brandon W. Totman.
Contortions was subtitled "Poems of Extraordinary Dislocation", and was devoted to poems of the macabre. It was published in Arcata, California, U.S.A. Issue #1 was released in 1996 in a limited edition of 150 numbered copies.
It featured poetry by John Benson (Not One Of Us, Doppelganger), Bruce Boston, Corrine DeWinter, James S. Dorr, John Grey, Chad Hensley, Charlee Jacob, Herb Kauderer, David C. Kopaska-Merkel (Dreams and Nightmares, Star*Line), D.F. Lewis (Nemonymous), Jacie Ragan, Tina Reigel, Ann K. Schwader, Bobbi Sinha-Morey (Dark Regions), W. Gregory Stewart, Steve Urwin, Don Webb, and t. Winter-Damon.
The cover and interior artwork was by H.E. Fassl.