WCSFAzine
From ZineWiki
Jump to navigation
Jump to search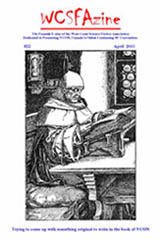 WCSFAzine was a science fiction fanzine by R. Graeme Cameron.
WCSFAzine is published in British Columbia, Canada. The initials stand for the West Coast Science Fiction Association, and the WCSFAzine is the monthly newsletter. 19 issues were published. The fanzine included news, commentary, articles, essays, fanzine history, listing of local events, Zine reviews, and letters.
Contributing writers have included James Bacon (Journey Planet), Ed Beauregard (BCSFAzine), Al Betz (BCSFAzine), Penelope Harris (The Penny Gazette), Bob McArthur, Debbie Miyashita, Armand Vaquer, and Taral Wayne (DNQ).
Contributing artists have included Brad Foster, William Gibson (Genre Plat), Alexis Gilliland, Barry Kent McKay, and Bill Rotsler.
Photographs were contributed by Debbie Miyashita.
The cover of WCSFAzine was frequently a reprinting of a Canadian fanzine of years past, such as Canadian Fandom or Genre Plat. Also included have been reprints of articles by Leslie Croutch, Ned McKeown, and artwork by Albert Betts, all from Canadian Fandom, and by Ed Hutchings and Tom Waddell from BCSFAzine.
Letters came from Steve Forty (BCSFAzine), Lee Anne Lavell (Space Cage, Embelyon), Cathy Palmer-Lister (Warp), Lloyd Penney (Torus), John Purcell (Askance), Jeanne Robinson, Spider Robinson, and Fran Skene (BCSFAzine, Love Makes The World Go Awry).
WCSFAzine won the Aurora Award for Best Fanzine for the year 2010.
R. Graeme Cameron had previously published BCSFAzine from 1989 to 1995, and also published his personal zine Space Cadet. As of 2010, he has been publishing The Fanatical Fanactivist.
External Links