Love Makes The World Go Awry
From ZineWiki
Jump to navigation
Jump to search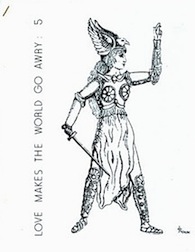 Love makes The World Go Awry was a science fiction fanzine by Fran Skene.
Published in British Columbia, Canada, Love Makes The World Go Awry was a perzine, devoted to the editor's personal life, poetry, and a letter column. The first issue was released in December 1979. In 1980, issue 2 appeared in March; issue 3 in June; and issue 4 in September. Issue 5 came out in June 1981, and the last issue, issue 6, was published in August 1983.
Fran Skene was also the editor of a number of issues of BCSFAzine during the periods June 1975 to January 1976, Oct 1977, and 1980.